This month's Country Living is a particularly good one; a lovely coastal issue and lots of interiors that really appeal to me. My subscription was a Christmas gift from my Mum - a great present I think. These rose pictures are just like my charity shop bargain from the other week...
I can dream about being this carefree campervan blonde...
...whilst in reality it's Monday and I look and feel more like this...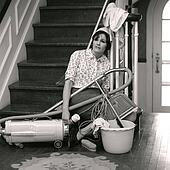 Hope you have a good week and remember to put some time aside to knit, sew & grow and smell the flowers!